What Does It Mean to Onboard a New Cleaner?
Onboarding a new cleaner takes training to the next level. As a cleaning business owner, it is imperative that you are familiar with all strengths and weaknesses of current and new cleaners.
Additionally, it is a form of shadow training — where a current employee breaks down the job and shows the new employee the process. This comprehensive and inclusive form of training lets the new hire know the rules, expectations, and safety precautions all at once.
Why You Need to Onboard a New Cleaner
Onboarding a new cleaner allows you to see right away if they are a good fit for your company and whether or not they will work well with your current team.
Traditional training processes can take up to a week to see if the new hire is adequate for the job. Onboarding, on the other hand, will take up only a little bit of your time, helping you save time and money in building a more efficient team.
This training process also allows your new cleaner to work in the field right away to get an understanding of how your business operates.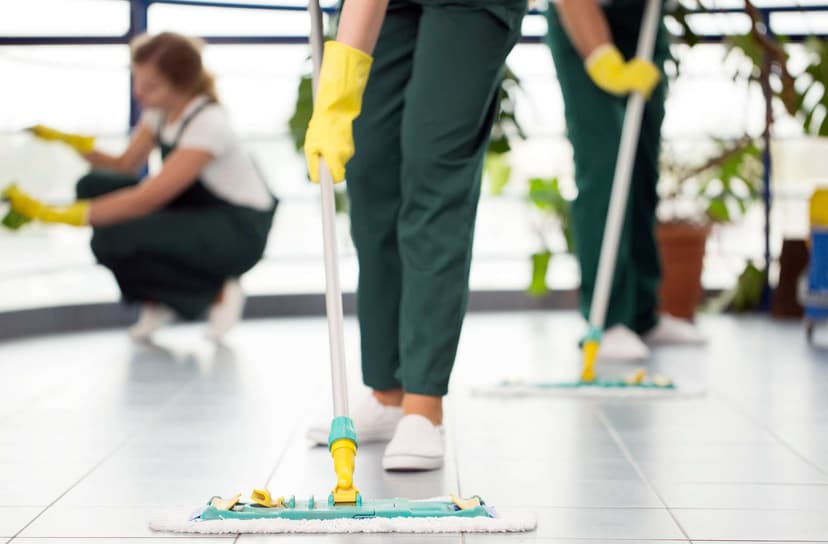 8 Steps to Onboarding a New Cleaner
Having a new team member on a cleaning crew requires a certain amount of onboarding, which will aid in getting your brand values and position expectations known as the new hire starts full-time.
1. Screen References
Even though you may have already gone through the new hire's references in the early stages, it is always important to follow up with references during the onboarding process.
When calling the listed references, prepare questions about the new hire's work experience and work ethic. Ask the reference if the new hire ever ran into any problems with coworkers and how they handled the situation. All of these questions will give you a better understanding of who you are bringing onto your team.
2. Come Prepared for Their First Day of Onboarding
To ensure your new employee is onboarded properly, make sure to come to their first day prepared. As the cleaning business owner, you should be well-organized and put together. This will show your new employee that you have a well-run, professional business.
If you come unprepared and haphazardly conduct their onboarding process, the new employee will miss out on being properly trained. They may also get the wrong impression of your business, which could lead to the new employee not taking their own position seriously, creating a non-efficient team.
What you will want to have prepared for your new employee's onboarding:
New hire paperwork for them to double-check is filled out properly
Formal welcome letter
Employee handbook that includes copies of previously signed paperwork, job description and adjoining expectations, rules and regulations, and safety guidelines for them to reference in the future
Employee uniform order, if applicable
Nondisclosure agreement
Declaration of pre-approved national and state holidays
The night before, make sure to contact your new employee with any necessary information they may also need for their first day. This includes first-day attire and required tools and supplies (if you do not supply them).
3. Understand Their Soft Skills
Many employers make the mistake of overlooking soft skills — skills that allow a person to interact with others harmoniously. This skill set is not only beneficial to the overall team but also to one-on-one interactions with customers.
The 10 most important soft skills that any cleaning service employer should look for are:
Communication
Adaptability
Good work ethic
Motivation
Positivity
Time management
Decision making
Conflict resolution
Flexibility
Teamwork
4. Cover Job Description and Expectations Early On
Before diving right into the training, you will need to cover their job description and expectations of their position.
Throwing a new employee right into the position is not recommended, as it can cause confusion and frustration for the overall team. If new employees are not informed of their expected tasks, it can create discord among your team members and lead to a less efficient team.
5. Perform Safety Training
Your next step will be to walk through all safety procedures. For a cleaning business, this can include chemical usage and disposal, tool and equipment clean-up, and usage of safety tools like gloves, goggles, and overalls. Going over these procedures will ensure that your new employee is able to handle unsafe situations if they arise.
6. Introduce Them to the Rest of the Team
In addition, make sure to introduce your new employee to the team. This will give them a sense of belonging. Having a new employee feel comfortable within your team will ensure a smooth transition.
Assign Onboarding Employee With a Buddy
The best way to integrate a new employee into your team is to assign them a buddy. This buddy should be an employee that you trust to help the new employee assimilate all on-the-job processes. Assign a buddy that will also have the capability to teach the new employee.
Often, it can be a lot of information for a new employee to take in right away. Mistakes are bound to happen, but you want to have the right buddy to guide them.
7. Check In Post-Onboarding
At the end of the shift, check in with the new hire to see how their onboarding went. Ask them questions about what you covered at the beginning of the shift. This will let you know whether or not they are able to listen and apply the instructions and rules.
This will also give you the opportunity to double-check that your onboarding procedures are helpful in preparing future team members down the road.
Other questions to consider asking post-onboarding:
What did you have your buddy help you with throughout the shift?
Were the objectives met and clearly identified to help the onboarding process go smoothly?
What parts of the onboarding process were confusing to you?
How could we improve your onboarding experience?
Do you feel like you could perform a project on your own after the onboarding process?
8. Give Them a "Test" Clean
Part of the onboarding process should be a test clean. Having the new cleaner perform a project without help or being shown what to do will allow you to see for sure if they are a good fit for your cleaning business. A test clean can either be with a client or staged.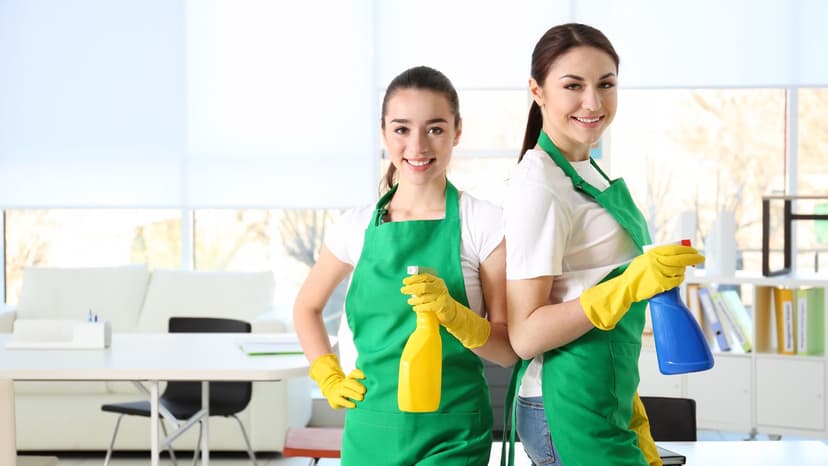 Best Practices for Onboarding a New Cleaner to the Team
When onboarding a new cleaner to the team, it is important to remember that your new hire is just that: new. Things to keep in mind during the onboarding process include:
Be understanding, compassionate, and helpful during the onboarding process to ensure that the new hire feels welcomed.
Cover all rules and expectations first to ensure a complete understanding of what you expect from the new hire.
Come prepared so you're sure to give the new employee a thorough and helpful onboarding process.
Frequently check for understanding during the new hire onboarding.
Have an open line of communication for the new hire to utilize while on the job. This can be another team member or yourself.
Onboarding a new cleaner is to ensure that your cleaning company faces lower turnover rates. By providing them with a well-formed onboarding process, you will decrease the likelihood of confusion. If a new hire is left feeling unsure about their position within your team, they may look elsewhere.
Manage Your Cleaning Teams Efficiently
Being a cleaning business owner can mean you have to manage small to large teams. Regardless of the size, you will want to make sure that your employees are well-managed and capable of completing projects efficiently.
Through the Taskbird app, you will be able to streamline your projects and communication with your team members. Manage and assign projects from anywhere, at any time.
Organize. Automate. Optimize.
Field Service Software for Growing Businesses on the Go.
Get Started for Free