Work Smarter, Grow Faster with Taskbird
Easy-to-use field service software and mobile app built to organize, automate, and optimize your business operations.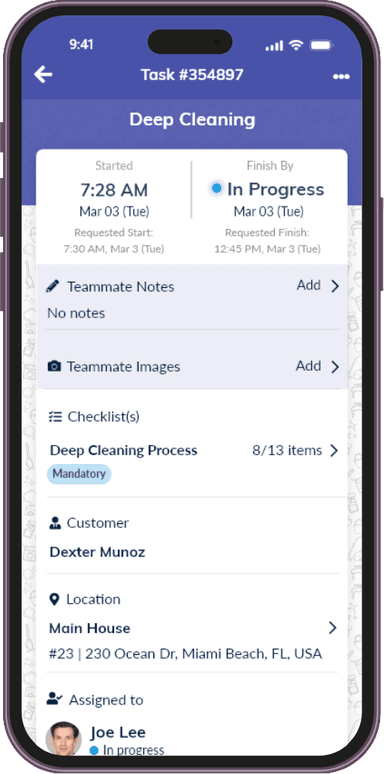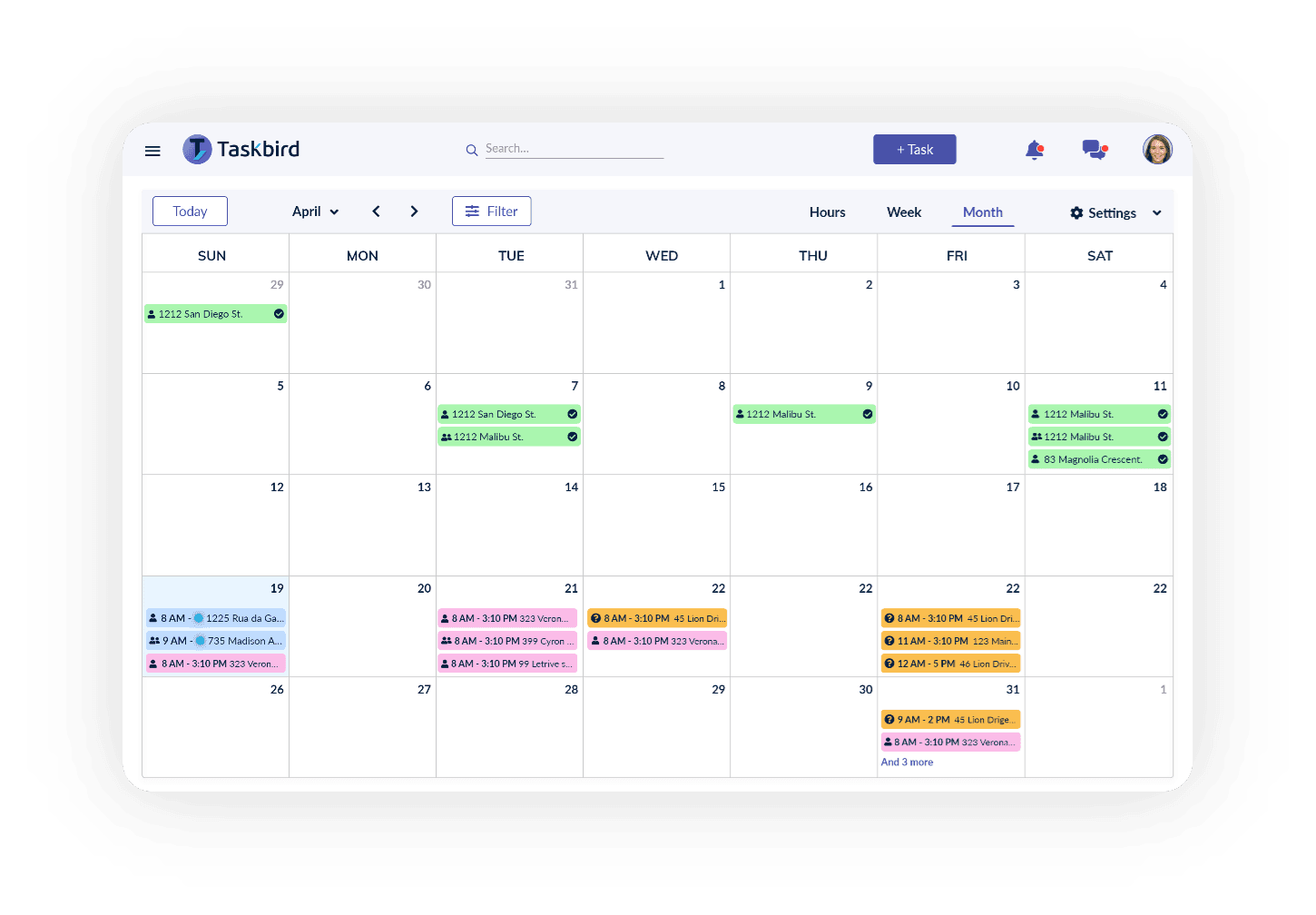 Better Business, from Anywhere
All-in-one solution goes where you go. Improved scheduling and productivity mean happier clients and higher profits.
Built for Running Your Business
Taskbird delivers the visibility, management tools, and customer data you need to maximize your operations and earning power.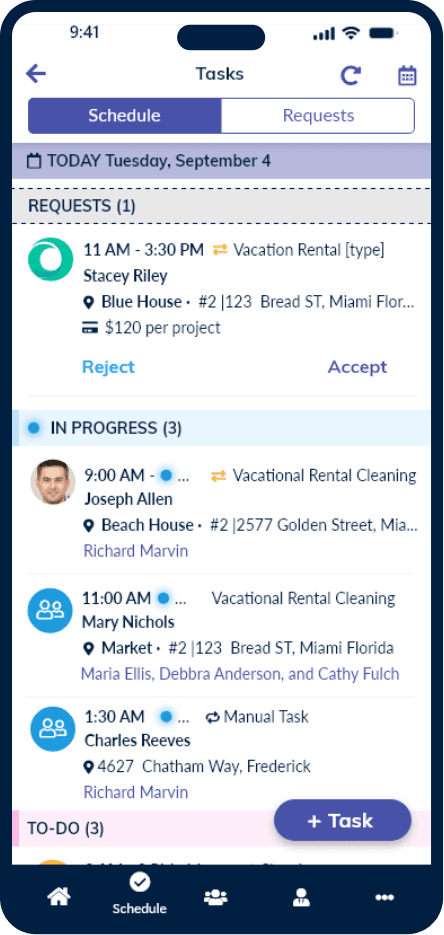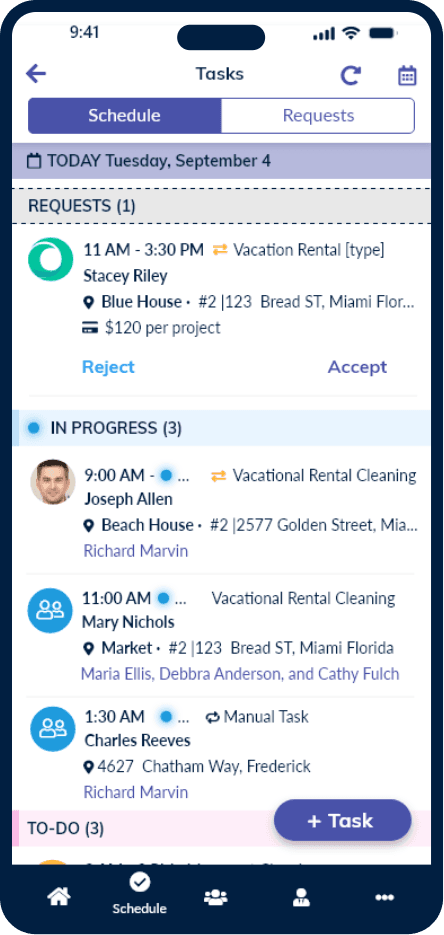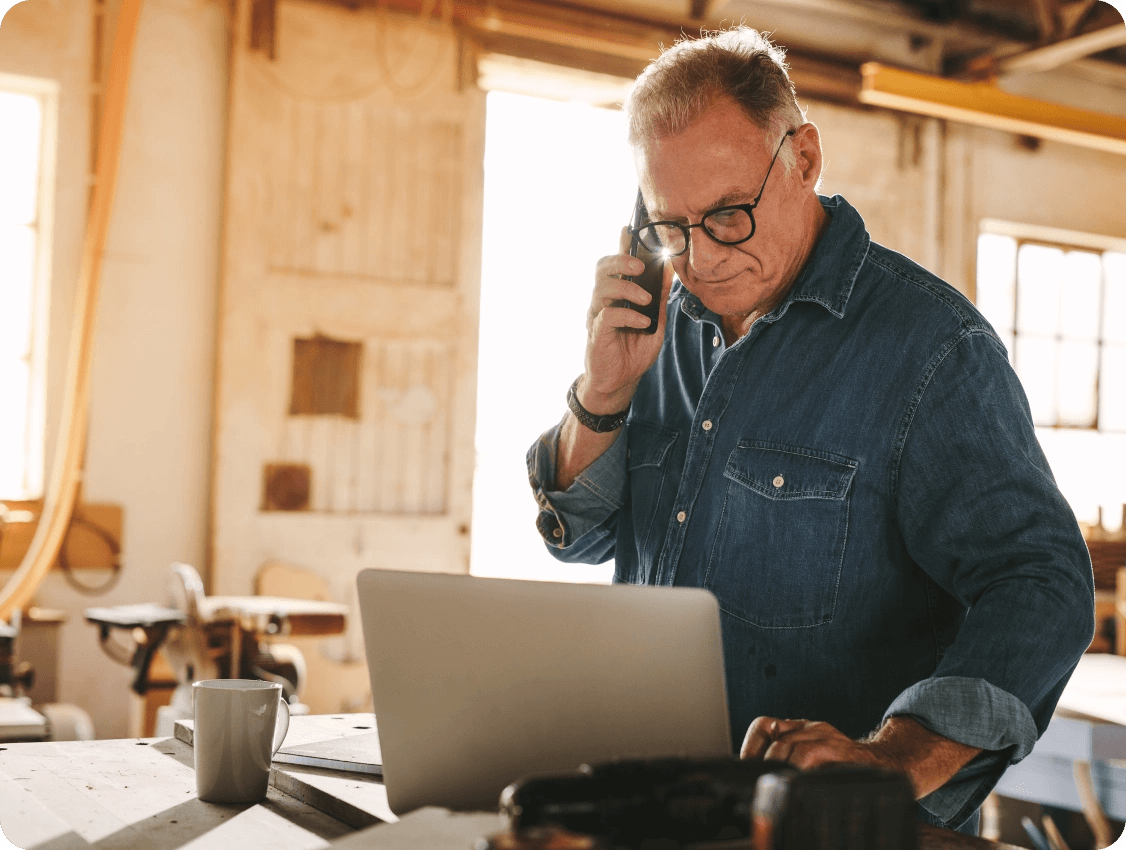 Simplify scheduling. Streamline tasks and communication. Deliver the details your crews need and maximize productivity.
Enable seamless communication, efficient problem-solving, and collaborative solutions for field service teams, regardless of their location.
Learn more
Consistently deliver exceptional service, on time, by leveraging real-time team availability and scheduling with confidence.
Learn more
Boost productivity, enhance service consistency, and optimize scheduling efficiency using visual workload software.
Learn more
Safeguard customer data and protect sensitive information with our free team permissions software, ensuring privacy and data security.
Learn more
Create exceptional field service teams effortlessly and efficiently by easily assigning the right people to every project.
Learn more
Why Taskbird?
Work on the go
Stay connected and up-to-date. Real-time visibility into job status and task completion allows you to address job site questions quickly and easily, from anywhere your business takes you.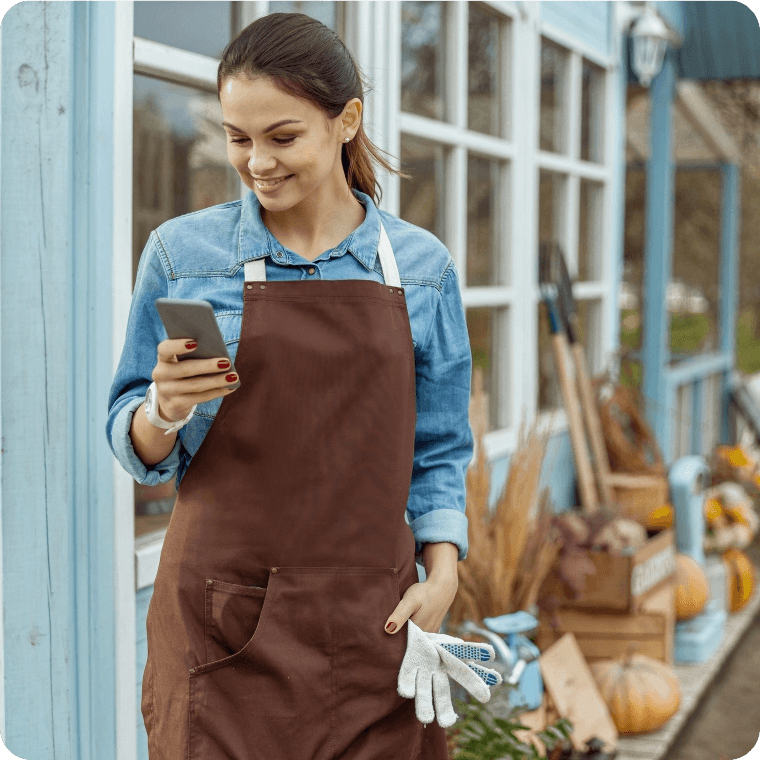 Save time and money
Complete more jobs faster and increase your bottom-line profits. Minimize admin tasks, paperwork, and headaches! Reduce expenses and avoid costly scheduling errors from over- and under-booking.
Improve your efficiency
Achieve your operational zen with efficient and effective processes, plus automation tools that simplify day-to-day management tasks. With Taskbird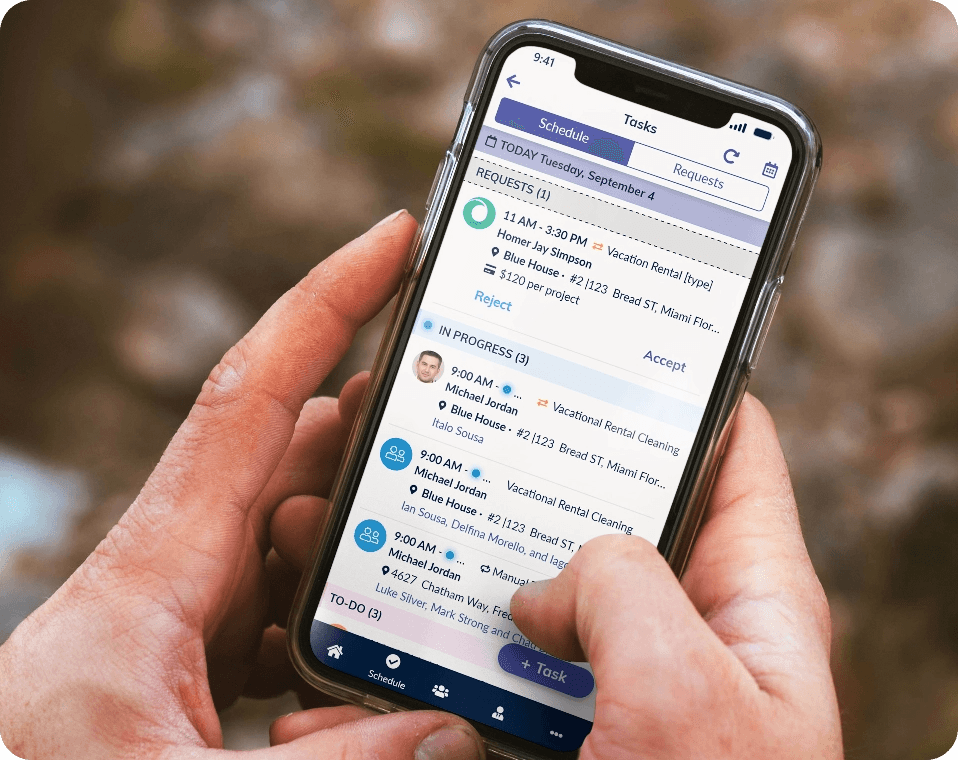 Impress Customers and Win More Jobs with Online Booking
Offer convenient online booking via your website, social media, emails, Google My Business listing, and more. Plus, all the info you need syncs directly into Taskbird.
Enhance customer experience and create a positive interaction, right from the moment of booking
Increase bookings, upsell service add-ons, set pricing structures, and control team availability
Prevent overbookings and streamline job scheduling
Convenient, flexible, and free for current Taskbird users.
Schedule an appointment with our sample booking site and check out the customer experience for yourself.
Try our Demo Booking Site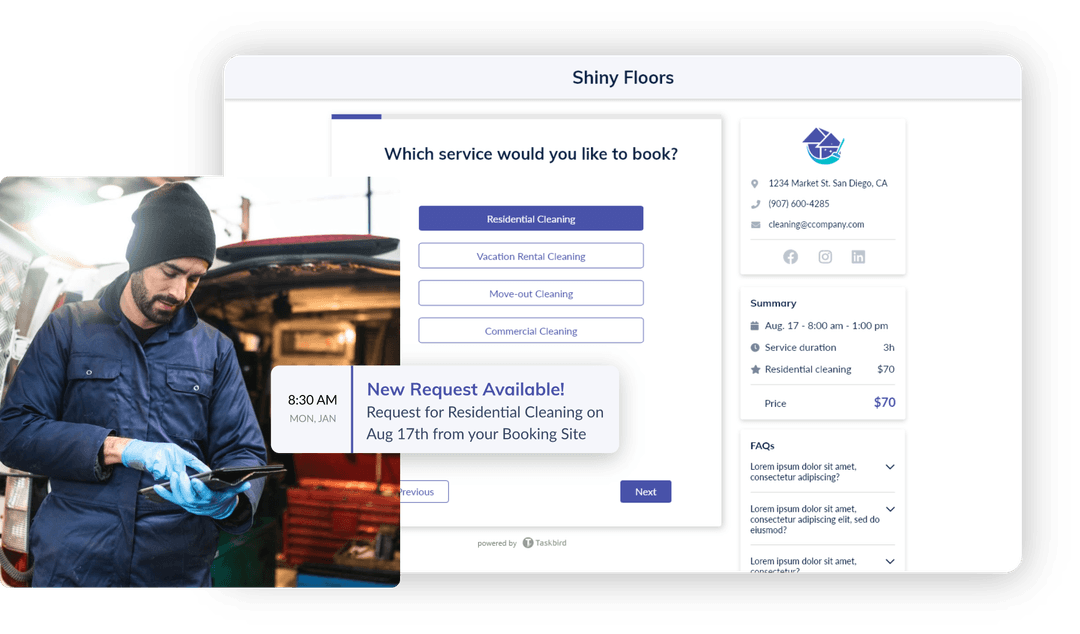 What Our Users Love about Taskbird
The Taskbird Team is proud to design and build field service software tools that help you manage, organize, and grow your business. We welcome your ideas for new features, read every review, and celebrate your messages of success.
Awesome app!
Assigning different crew members to particular tasks has been super easy on Taskbird and has made scheduling a lot better.

Best app for service teams
Hands down the best app for service teams! SOO easy to use and it's always been FREE. Building schedules for my team and assigning tasks is just simple. I swear it's better than most paid apps. Huge fan and it keeps improving every update. Highly recommend.

Great tool for assigning jobs to employees
This is the easiest way to delegate my teams. Automating my cleaning business has gotten a lot more doable with the app.

I highly recommend
I own a small cleaning company and was able to find a way to manage my teams more simply with taskbird. I added one of my employees who is really great as an admin for our teams and we've both been finding the appto be extremely useful.

Best app for cleaning businesses
This is the easiest way to delegate my teams. Automating my cleaning business has gotten a lot more doable with the app-

Amazing app
This is an amazing app for a cleaning company!! Very Quick Cleaning and Staffing LLC appreciate your help.

You Work Hard, Your Software Should Too
Field service software should make your daily life easier, job tasks smoother, and business operations more efficient. We built Taskbird to help businesses like yours from across the service industry.