What Are Decluttering Services?
Decluttering is a softer term for when addressing cleaning up a home that may have been impacted by someone who deals with a hoarding problem.
Hoarding can cause long-term damage to not only a home but its inhabitants as well. A hoarder's family members or friends may attempt to clean up the home but often run into roadblocks. This is why professional cleaners are needed.
Decluttering services will provide a safer environment for the person dealing with a hoarding disorder to heal. As a cleaner offering this type of service, you will have to be sensitive to who your customers are. This service is much more than just cleaning — it is also handling a delicate situation where your customer may be emotionally involved in the overall process.
You are not expected to become a personal or life organizer. There are no expectations for you to create schedules, set goals of any kind, or even change a customer's interior design. Your job is to get the clutter out of your client's home and help them start again in a cleaner environment.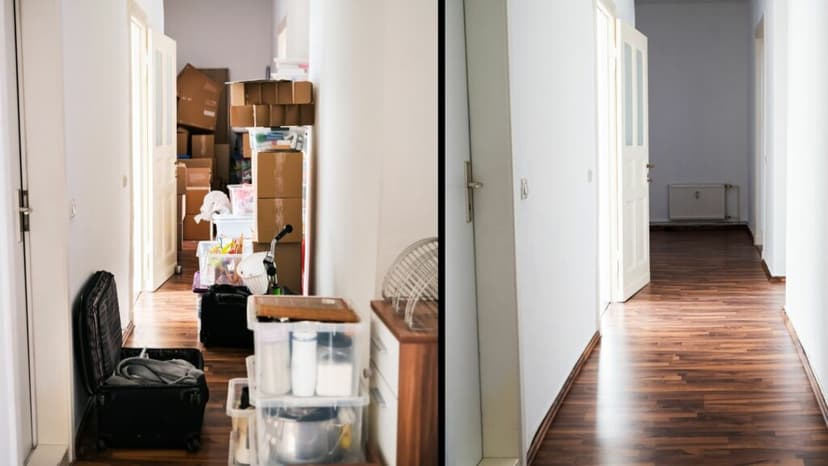 How to Perform Decluttering Services
If you are hired by family members or friends of someone struggling with hoarding to perform a decluttering service, the first thing you should express to your customer is how understanding you are of their situation.
There is quite a bit more work that goes into a decluttering service for hoarders. The home of someone dealing with hoarding may have extreme clutter, poor air quality from mold and spores, and sometimes pests and rodents. That said, your main objective is to create a clean and fresh environment and provide a guide to being more organized.
Below, learn more about the tasks involved in performing decluttering services.
Survey the Home
Before taking on any decluttering task, survey the home first. Family members or friends may spearhead the process and walk you through each room. Make a running list of things you notice that may need extra attention. This could be as simple as noting you need more trash bags over recycle bins.
Also, take note of any tripping or other hazards that could slow down your progress or get you injured.
Remove Clutter
Before any dusting or disinfecting takes place, you'll need to remove the clutter from the home. This includes placing items in labeled boxes for trash, recycling, or donation.
Make sure to consult with the family or friends on what types of items they think should be donated, recycled, or thrown away so you don't accidentally get rid of something that holds value. After everything has been picked up, you can start cleaning.
Deep Clean Each Room
Depending on the overall air quality or risk of contamination, you may have to decontaminate the home. If you do not have to deal with pests, rodents, or biohazards, you can conduct a normal room-to-room deep clean. You will want to pay extra attention to floorboards, air vents, and behind furniture, cabinets, and bookcases as dirt can build up easily in these spaces.
When cleaning, start from the front of the house and make your way towards the back. This will ensure you do not have any accidents while moving through the home with your cleaning supplies.
Further, it's always important to come to any cleaning prepared with the right tools, and as a decluttering service, you may need more supplies depending on each home.
Organize Belongings
As you clean the home, you will be in charge of reorganizing each room. Bookshelves, drawers, cabinets, and closets are common spaces that will need to be organized. Setting up the client's home in a new clean and organized environment will give the family an idea of what to upkeep.
Decluttering services often supply the home with basic organization bins to use as storage in the bathrooms, bedrooms, and garage. You can determine the necessary sizes once you have surveyed the home. If you do opt to provide organizational bins, you can charge an extra fee to do so. It's not always required to provide extra commodities, but it can be helpful.
Make a Lasting Impact
As a decluttering service, you are capable of changing a hoarder's lifestyle. You take the first step by decluttering, cleaning, and then organizing their remaining belongings. This means you'll also have to help provide the family or friends with tools to guide their loved ones through remaining organized.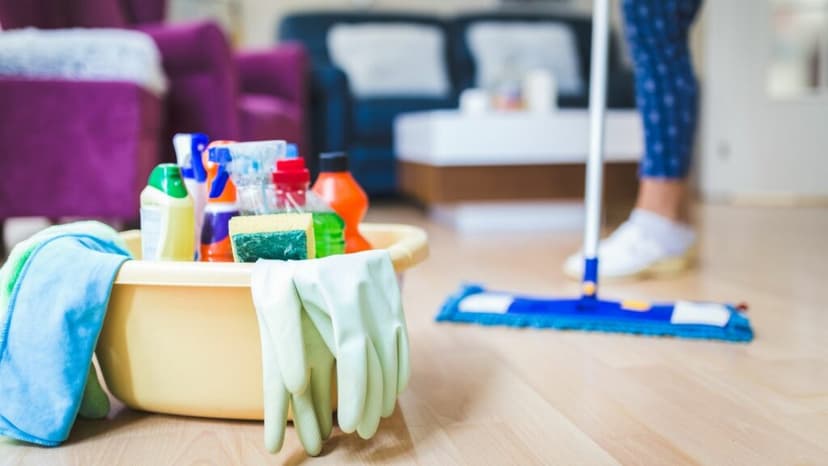 How Much Do Decluttering Services Cost?
Because cleaning the homes of hoarders tends to have more tasks involved than an average cleaning, they take up to 3 hours longer to complete. An average residential cleaning can take roughly an hour and a half to complete.
Pricing can be ambiguous per cleaner. Most cleaners charge an hourly rate per square foot. Since decluttering services offer much more than just cleaning, the prices can start off rather high. This type of service is a specialty, so you could be looking at charging $50 to $150 per hour.
The best way to optimize your pricing is to have extra fees. Extra fees to consider include:
Consultation: $50 to $100
Organizational tools: $50 to $80
Storage: $50 to $100
Is a Decluttering Service Profitable?
Yes, a decluttering service is profitable. Of course, any cleaning service's profitability is determined by how many hours and separate jobs you complete each week. Per project average price charged to clients can reach up to $1,500 with an hourly fee.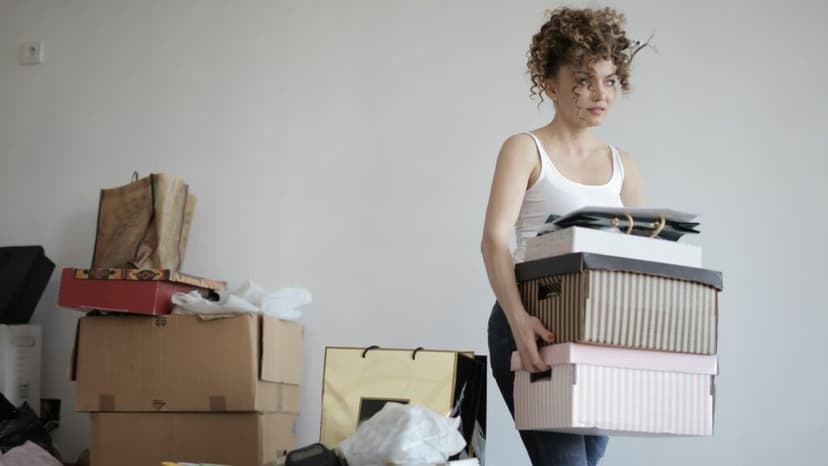 How to Start a Decluttering Service
New business ventures can seem daunting with all the steps that are required to get started. However, starting a specialized cleaning service for your business can be simplified into four steps.
1. Create Your Company Values
For any cleaning business, you will have to create a business plan. A key component of a business plan is the value proposition, which covers the purpose of your business. Understanding why you want to start a decluttering business will help you later on when you're making marketing decisions and talking to potential customers.
Your company values should be mentioned in a way that lets your customers know that you are empathetic and understanding of their needs and current lifestyle.
2. Purchase the Right Tools
The worst thing for any cleaner to do is to show up to a cleaning job and not be completely prepared. You always want to appear professional and put together, especially when completing a decluttering because you always want to be prepared for the unexpected.
Your cleaning supplies can be simple. Antibacterial or disinfectant cleaning solutions are recommended. Other tools you should always have on hand include:
Trash bags
Boxes for recyclables or donations
Broom and dustpan
Dusters
Gloves
Facemasks
Eye protection
Biohazard suits, if applicable
Hard hats
Sturdy boots
Dust mats
Fire extinguisher
Disinfectant spray
Trash bags and breakable boxes should always be stocked in abundance. Label boxes accordingly before showing up for the cleaning. This will help you save time and keep you organized as you work from room to room.
3. Network With Donation Centers
More often than not, your clients will want you to donate belongings. People who struggle with hoarding can have a habit of collecting a wide variety of items that could be donated.
Providing a list of donation centers can really help your clients. Some items may have more value than others, and they may not want to make a decision on where to send the belongings to. If this is the case, having a list ready for them will ease some of the stress that comes with finding a new home for certain valuables.
4. Acquire Customers
A common mistake new cleaning business owners can make is lacking in the marketing department. Depending on whether or not you are a single cleaner or work in a team, updating marketing platforms is crucial in acquiring new customers.
Easy ways to stay on top of your marketing include:
Setting a schedule of when you want to send emails or post to your social media platforms Consistently creating content by taking before and after photos of a cleaning Asking clients to follow your social media Keeping customer reviews high by always coming prepared and remaining helpful and understanding during your decluttering Marketing through social media and emails keeps your cleaning business at the forefront of your consumers' minds. Sending out content consistently will ensure that not only your customers see your cleaning business but other potential customers will as well.
Advertisements for your decluttering service should be mindful. Try not to advertise your services as a means to shame or demoralize someone who struggles with hoarding. Keep your messaging clear and focus on how your services will be helpful.
Additionally, instead of showing before and after photos for every advertisement, try looking into fun graphics. This will allow your advertisements to be interactive and interesting. Sometimes seeing too many before and after photos can become one note. Try to keep things fresh and engaging.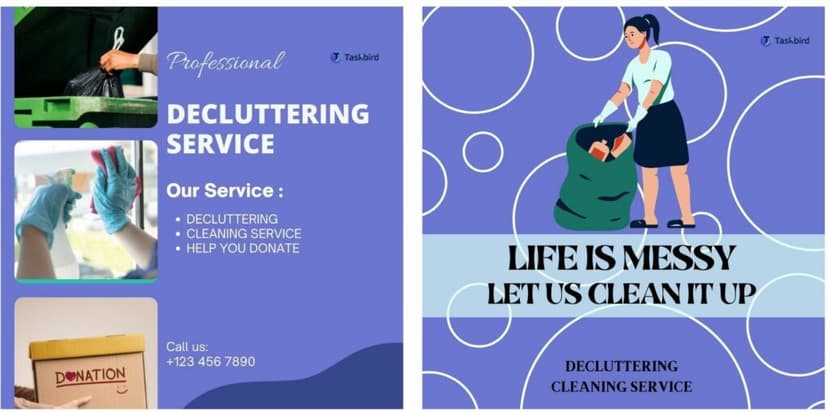 Start Your Decluttering Service Today
At Taskbird, we strive to make managing and communicating with your team easier. Our platform allows you to work with your cleaners in managing their schedules and sending out invoices quicker.
Check out our app today to start running your decluttering service smoothly and efficiently.
Organize. Automate. Optimize.
Field Service Software for Growing Businesses on the Go.
Get Started for Free