What Is the Best Way to Clean Hardwood Floors?
There are several different options for cleaning and preserving your hardwood floors. The biggest thing to remember is to avoid moisture as much as possible while cleaning. Water seeping into your hardwood floors can cause major damage, even if the flooring was treated.
Generally, a dry process will lead to clean, long-lasting, and damage-free floors. Learn more about different methods to clean hardwood floors below.
Sweeping and Dusting
You should choose a soft-bristled broom that's sizable enough to deliver a great sweeping job. The broom's design should allow the brush to extend into corners.
That said, it is vital to realize that a soft-bristled broom may not do much when it comes to cleaning smaller debris. That is where dusting comes in, ensuring the cleanup is done properly.
Vacuuming
In essence, this method of cleaning is like a combination of dry mopping and sweeping.
One of the best characteristics of vacuum cleaning is that it is capable of getting rid of almost any debris, whether big or small, from your floor. For the best vacuum cleaning experience, always use soft roller cleaner heads.
Dry Mopping
Dry mopping guarantees the removal of different types of dirt and debris from your floors. This type of mopping is popular for hardwood floors since it is excellent in gathering debris that would often be just pushed around by a broom.
Damp Mopping
With this particular hardwood floor rinsing and maintenance technique, you have a perfect solution in case dry cleaning has not worked to your satisfaction.
Damp mopping involves the use of exceptional cleaning personnel, as the moisture involved in the process has the potential to damage the flooring.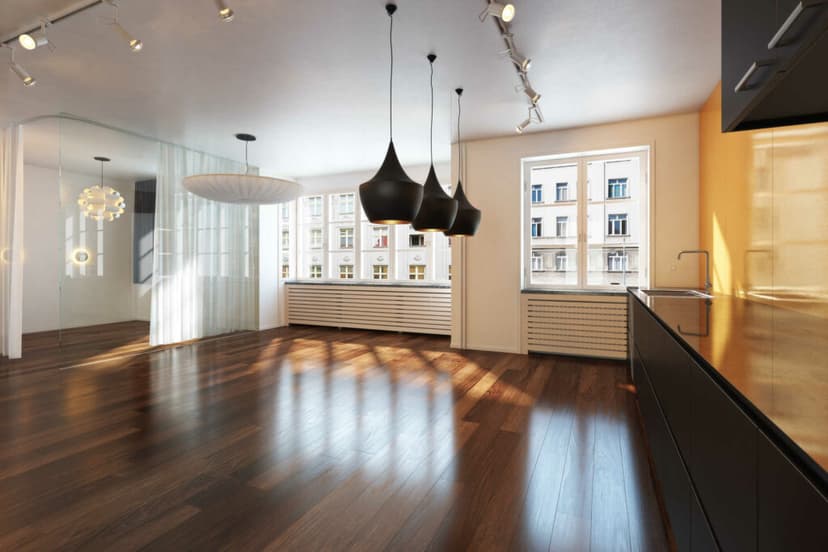 Tools and Supplies Needed for Cleaning Hardwood Floors
Investing in the right cleaning supplies and equipment is essential to keeping your living space tidy and pleasant to spend time in. Here are the basic tools you'll need to keep your hardwood flooring in pristine condition.
Quality Mop or Vacuum
If you choose to mop your hardwood floors, we recommend using a microfiber mop because it will deliver a great cleaning job without scratching the flooring. Also, the mop should have a triangular shape to make it possible to clean smaller, tight spaces like corners.
If you are vacuum cleaning, choose a machine that enables easy maneuvering and has a soft roller cleaner head.
Conventional Broom and Dustpan
If your cleaning supplies include a conventional broom and dustpan, opt for a soft-bristled broom to avoid scratching your hardwood floors.
Hardwood Floor Cleaning Solution
Vinegar is one of the top choices when looking for a safe and simple solution to clean your hardwood floors. Keep in mind, you'll need to use the right type of vinegar. Good options to choose from are apple cider vinegar, cleaning vinegar, and white vinegar.
Step-by-Step Guide to Cleaning Hardwood Floors
1. Clear the Floors
Move your furniture and other belongings out of the way of the area you'll be cleaning. Furniture pads come in handy here to make clearing the floor easy and avoid causing scratches.
2. Remove Dust and Debris
The removal of dust is best done using a microfiber dust and debris mop. If you prefer vacuum cleaning, ensure the underside of your tool is free from debris that may lead to scratching.
3. Fill a Bucket With Cleaning Solution
Cleaning experts recommend filling your bucket with a solution of 1 cup of white vinegar and 1 gallon of hot water.
4. Clean in an "S" Motion
Simply dip your mop into your bucket, wring out excess water, and start mopping in an "S" motion. This way of cleaning helps effectively catch dirt and avoid spreading it around.
As you move from room to room, make sure to replace the dirty cleaning solution with a freshly made mixture for a worthwhile cleaning. Avoid saturating your floors with the rinsing product.
5. Polish or Wax the Floors
Polishing or waxing the floors is advised after cleaning to enhance the shine.
How To Avoid Damaging Hardwood Floor During Washing and Maintenance
Opt for Gentle Cleaners
There are different floor-cleaning tools and brooms meant for softer and tougher cleaning, so make sure to choose the appropriate products. For example, do not use a broom designed for cleaning a garage to clean your hardwood floors.
Additionally, there are all sorts of cleaning products promising a shining floor when, in reality, all they do is accumulate more residue. Some cleaning products even make the floors more slippery. Organic cleaning products used by professional cleaning companies are preferred.
Do Not Flood the Floors
When cleaning with water, the hardwood floor finish is left exposed to moisture. Gradually, as the water soaks into the flooring, it can cause various kinds of damage, including warps, stains, and a spongy texture.
Avoid Steam Cleaning
Steam cleaning of hardwood floors is a definite no, particularly if the floor is not sealed. Hardwood floors without sealing are more susceptible to damage by the device's heat and moisture. In other words, steam cleaning will dull your home's hardwood floor finish.
In fact, steam cleaning is better suited for cleaning tiled floors.
How to Keep Hardwood Floors Clean: Additional Tips
Other tips for keeping hardwood floors clean and shining include:
Spills should be wiped up immediately. Use furniture pads when moving your belongings to safeguard your floors from potential scratches.
Invest in doormats, as they help keep dirt and water out of your home and off of your floors.
Monitor the levels of sunlight in your home to prevent the lightening or darkening of your hardwood floors.
Curtains can also help regulate the level of sun exposure to your floors.
The most important thing to remember when cleaning hardwood floors: Do not oversaturate your floors with water during mopping. To maintain the cleanliness of your floors, remove dust and dirt regularly using a vacuum cleaner, mop, or microfiber cloth.
For additional cleaning tips and how-tos, check out our other resources.
This article was written by Taskbird Writer's Community contributor John Kennedy Obiero, a cleaner and freelance writer with more than 4 years of experience.
Organize. Automate. Optimize.
Field Service Software for Growing Businesses on the Go.
Get Started for Free