How to Successfully Start a Carpet Cleaning Service
Carpet Cleaning
By Taskbird Team
June 21, 2023
Already have a cleaning business or want to get started? Including carpet cleaning services can give you a competitive advantage, expand your market share, and increase profitability.
Both new and established cleaning businesses can add carpet cleaning to their list of services. In turn, carpet cleaning can strengthen your client relationships and expand your market share. However, there are a few things you'll need to consider before getting started:
Which cleaning method will you use?
Do you have a vehicle to transport the equipment?
How will you finance your equipment investment?
Will you need extra insurance for the added equipment?
Will you and your employees need training or certification?
Do you know the latest CDC standards for COVID-19 cleaning and disinfection?
What should you charge to be competitive and maintain a fair profit margin?
How can you leverage Taskbird for success?
Carpet Cleaning Methods
There are three types of carpet cleaning methods commonly used. Each has its benefits and drawbacks. You can usually use the equipment for upholstery and hard flooring as well. Most short-term vacation rental properties must be clean and ready for guests quickly. As a result, the method you use may be decided for you.
Dry Foam
Good entry-level cleaning if startup cost is the main factor.
Quick and easy to apply
Fast-drying for short return-to-service time
Equipment is less expensive to purchase
Doesn't clean the carpet as well as other methods
Dry Chemical
Best choice for quick turnarounds.
Fast-drying for short return-to-service time
Cleans better than dry foam
Equipment is more expensive
Requires dry cleaning compound and powerful agitating vacuum
Wet (Steam)
Best choice for "end-of-season" deep cleaning.
Longer drying time
Most common cleaning method
Uses fewer chemicals for a more eco-friendly business
Choice of lower-cost portable or expensive truck-mounted extractors
Excellent cleaning; best for treating deep stains
Additionally, all of these methods require transporting what can be large, bulky cleaning equipment. Suppose you're currently only using a small personal car to carry your cleaning supplies. In that case, you'll probably need to consider buying or leasing a utility vehicle or van if you're serious about offering carpet and upholstery cleaning.
Supplies and Tools
It's a given that you will invest in your primary cleaning machine. However, you'll need to budget for expendable items like solvents, detergents, deodorizers, spot removers, and specialty products to remove pet odor and stains.
Upholstery wands, stair tools, squeegees, and carpet rakes will prove handy if your machine doesn't include them. If faster drying times are required, air mover fans can assist in drying large areas more rapidly.
Equipment Financing
Prices for commercial-grade equipment vary. On one hand, some models can run from a few hundred dollars for used upright carpet cleaners on eBay to $10,000 or more for new high-end, truck-mounted steam extractors. Therefore, you may want to consider applying for a Small Business Loan to lower your initial startup costs. Another option if finances are tight is first to rent or lease your equipment. This is also an excellent way to try out different methods and equipment before investing in a complete setup.
Insurance
You should already have general liability, workers' compensation, and tools and equipment insurance. However, specialized carpet cleaning machines can be a lot more expensive to replace if stolen or damaged. It's a good idea to contact your insurance agent to discuss increasing your tools and equipment coverage before an event occurs.
Training and Certification
First, you'll need to determine if extra training and certification for yourself or your employees is needed depending on what equipment you use and which services you plan to offer. Adding certifications and specialty training to your belt will help you stand out to new clients.
Prices range from about $300 to $400 per course for the convenient online training from companies like TMF Academy or the Institute of Inspection Cleaning and Restoration Certification (IICRC).
Lessons from commercial carpet cleaning to spot cleaning and upholstery cleaning will prepare you for certification as a Carpet Cleaning Technician or other designation.
COVID-19 and Carpet Cleaning
With new variants and worldwide uncertainty about transmission and treatment, we're probably going to be dealing with COVID-19 disinfection concerns for some time. It is essential to stay informed of the latest guidelines and local regulations for the safety of you and your employees and your clients and their guests.
Pricing Your Carpet Cleaning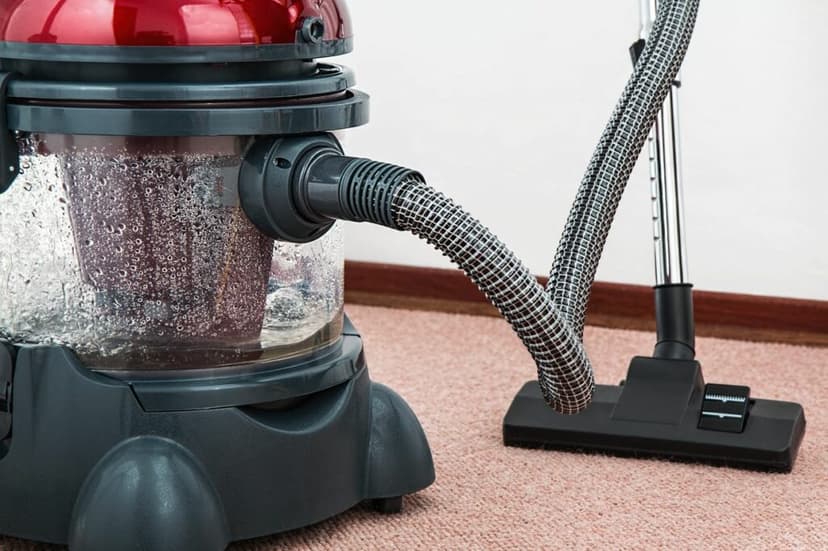 You've decided you're going to add carpet cleaning and possibly upholstery and hard floor cleaning to your list of services. Now you'll need to figure out how much to charge to be competitive and earn a fair profit.
Here are ten key factors to help you stay competitive when pricing your cleaning service:
Determine your average cleaning time.

Use the pricing model that works best for your business: by the hour, flat rate, or per square footage.

Factor in the average cost of living in your area and travel to the property.

Price according to your experience level and professional certifications.

Consider how frequently you'll clean the property.

Do a walk-through or ask for photos of the rental to aid in your estimate.

Consider overhead costs like distance to the property, distance between customers, your supply costs, and other variable expenses.

Test your prices to optimize your profit margin and find what the market will bear.

Research average local prices.

Join Turno's Cleaner Marketplace to find new customers.
Organize. Automate. Optimize.
Field Service Software for Growing Businesses on the Go.
Get Started for Free