How to Start a Window Washing Business
Window Cleaning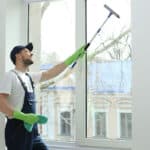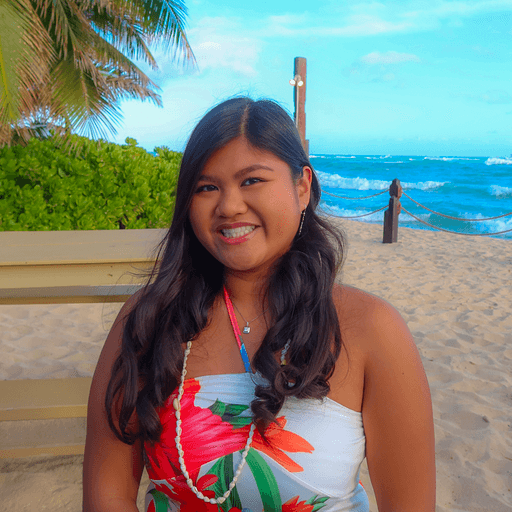 By Mia Pimentel
June 7, 2023
Is Starting a Window Washing Business Profitable?
Starting a window washing business is certainly profitable. According to Extra Income Over 55, "the average window cleaner makes between $50 and $70 per hour." Whether you want to start a commercial or residential window washing business, you may have the opportunity to earn around $3,000 per week.
In addition to being profitable, starting a window washing business also has a low startup cost.
You really only need a few cleaning supplies, such as squeegees, scrubbers, scrapers, and extension poles. Business Partner Magazine reported that window washing equipment typically costs $500 or less, which is cheaper than equipment for other types of cleaning businesses.
Further, when it comes to marketing, you can use low-cost or free tactics, such as posting on social media sites or passing out flyers.
Now that you know that starting a window washing business can be a profitable venture, keep reading to learn the key steps involved in getting your service up and running.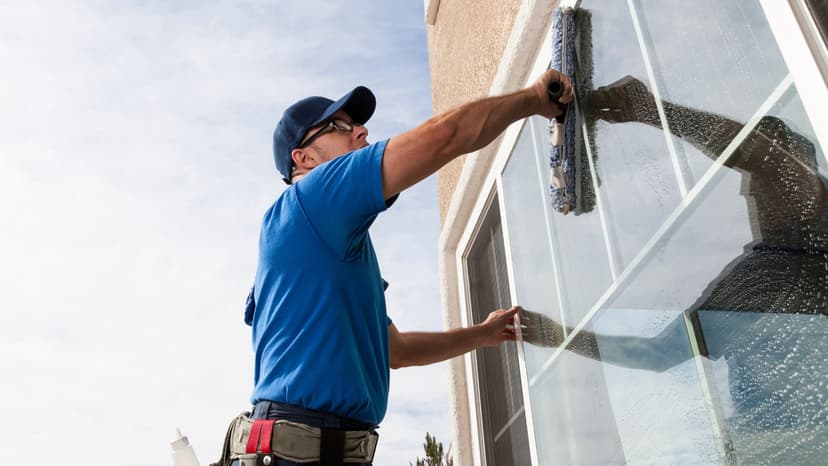 7 Easy Steps: How to Start a Window Washing Business
Ready to start your own window washing business? Follow these seven easy steps to build your business and help it thrive.
1. Identify Your Target Audience
Choose which type of window cleaning you want to specialize in: commercial or residential.
Residential involves cleaning windows of people's homes. This target audience is often easier to tap into, as it requires less investment in materials and equipment.
Commercial involves cleaning windows of office buildings, often high-rises. Commercial window cleaning may pay more because the nature of the work tends to be riskier. It involves high-rise rope access window cleaning and additional equipment and insurance.
2. Brand Your Window Washing Business
To better reach your audience and set your window washing business apart from competitors in your area, come up with a name that is clever and easy to remember. SqueeGeezy recommends, "to come up with a good company name, start by brainstorming words that represent what your company does or what you want to achieve."
Once you have decided on a window washing business name, you can brand your equipment, vehicle, and uniforms.
3. Apply for Licensing and Insurance
As soon as you have branded your window washing business, apply for a business license and vendor's license and register your business name in your local city hall or city administration office. This will allow you to charge sales tax for your window washing services.
Since you will be using ladders and working from heights, you will also need to invest in liability insurance. If you hire employees down the line, you will need workers' compensation insurance as well.
4. Find an Equipment Wholesale Supplier
Next, find a local window-washing soap wholesale provider to supply your business. Utilizing a wholesale supplier can help you cut costs and even reach more clients through referrals.
When selecting a wholesaler, choose one that provides you with the lowest per-unit cost on your supplies, including window soap, squeegees, scrubbers, and extension poles.
5. Look Into Renting a Van or Truck
Depending on the scope of your business, you may also need to look into renting a vehicle to transport all your window-washing cleaning gear. Ladders, pulleys, and harnesses will certainly need extra space.
If you decide to purchase your own vehicle, don't forget that you can brand it with your business name. Further, Window Academy suggests when looking into renting a vehicle for your window washing business, "find something with a little more room than you need right now so you have an opportunity to expand in the future."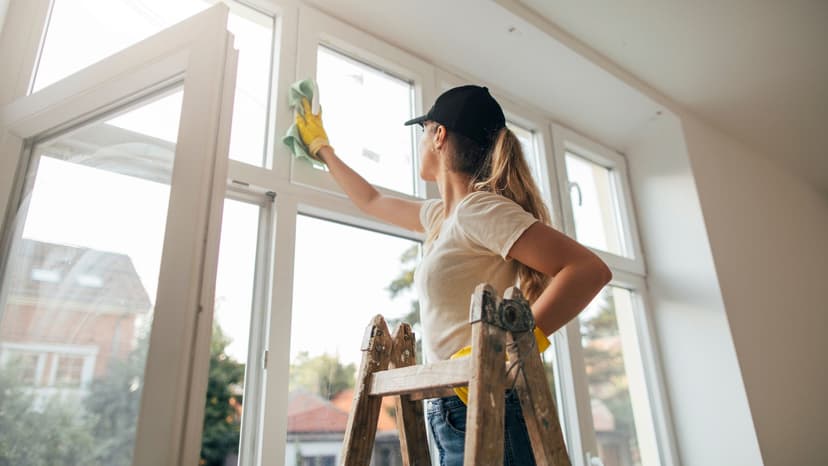 6. Find Out Window Washing Rates in Your Area
Contact window washing businesses in your area and obtain the going rate. Price your business within the range of most window cleaners. In 2022 alone, the typical range for a window washing service is $149 to $296, and the national average is $213.
Keep in mind that lowering your price for clients who agree to regular cleanings for a set fee will help you build customer relationships and gain consistent revenue for your business.
7. Create a Website
Create a basic website for your window washing business using a website building platform. This wonʻt cost you too much upfront and will help you connect and reach clients as you grow your business.
Your website should include key information about your business, including your services, prices, operating hours, and branding. As you grow and create strong customer relationships, start including testimonials to encourage potential clients to choose your service.
Launch Your Window Washing Business Startup
By launching and being consistent in providing window washing services, you have the opportunity to generate significant profits with a fairly low startup cost. The seven easy steps we provided above can help you make your business official with more ease and enjoy your new profitable venture.
To automate your schedule, assign cleaning projects to your team, and run your window washing business on-the-go, download our free app now.
Organize. Automate. Optimize. Field Service Software for Growing Businesses on the Go.
Get Started for Free